"A people without a language of its own is only half a nation. A nation should guard its language more than its territories - 'tis a surer barrier, and more important frontier, than fortress or river."

Thomas Davis - 1840

"If the Gaelic League made it its business to enable the Gael to live in the gaeltacht and prosper there, and dropped all its other work, the language would be saved. If the League continues to do everything else but this, the language will be lost."

Séamus Ó hAodha - Sinn Féin (Arthur Griffith's Newspaper) 1914

"...the use of English by officials throughout the Gaeltacht is tolerated without question by most of the responsible Civil Service Authorities. The fact that there are areas where, apart from the question of the National language altogether, efficient administration would demand that Irish should be the first language of officials, is ignored in the pressing importance of those aspects of administration that are most readily seen at Headquarters.'

Coimisiún na Gaeltachta, 1926

"None of the organs of the State, legislative, executive or judicial may derogate from the pre-eminent status of the Irish language as the national language of the State without offending against the Constitutional position....."

Chief Justice Kennedy - 1934
Ceart Teanga na Gaeltachta
Unofficial site
---
From Language Revival to Survival
By Donncha Ó hÉallaithe
The Irish State established in 1923 with a native government at the helm, adopted the revival of Irish, as an important national objective. This was to be expected as the state was born out of a struggle for independence, the ideological basis for which was dependent to a large extent on asserting a separate national identity based on language. It was hoped that Irish would replace English, in the same way as English had replaced Irish in the previous century. This was to be accomplished by teaching Irish to all schoolchildren; by making Irish compulsory for all state examinations and for new entry to the Civil Service. It was intended to gaelicise the internal work of the administration, as soon as sufficient civil servants had a working ability in the language. It was hoped to revise the language shift in the Gaeltacht, so that new territories could be added to the existing Irish speaking areas.
Up to the 1960s the state more or less continued to insist on reviving Irish, even though the results of efforts in the previous 40 years were disappointing. While many people had been taught Irish, there was little opportunity to use it, outside of school. The Irish speaking areas continued to shrink, although at a slower rate. The burden of reviving Irish was causing resentment and whatever public enthusiasm for revival that may have existed during the 1920s and 30s had evaporated by the 1960s, leading to changes in policies, which fuelled a feeling of betrayal among Irish language enthusiasts as the state retreated from revival to a vague form of language promotion.
What went wrong with the revival? Was it ever feasible? Would the pursuit by the state of more realisable linguistic objectives have yielded better results? What are the chances of Irish surviving as a living language, or will it become another of the thousands of languages that will become extinct during this century? These are some of the issues that will be looked at, in this review of the Irish revival project.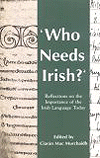 Planning in the Galway Gaeltacht
---
Pages in Irish
Leathanaigh i nGaeilge
---