"Gaeltacht" planning area slashed
Councillors change the language planning condition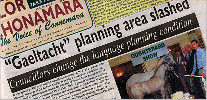 It was agreed by Galway County Council, at a meeting on Wed. 26 to reduce substantially the areas of the Galway Gaeltacht in which a language condition may be attached to planning permissions for schemes of houses. Since the adoption of the current County Development Plan in May 2003, a general language condition has been attached to schemes of houses and apartments in the Galway Gaeltacht, whereby developers are required to reserve a percentage of the housing units "for the use of occupants who have an appropriate competence/fluency in Irish". This condition was imposed on housing schemes in the English speaking villages of Claregalway, Moycullen and Bearna as well Irish speaking areas like An Cheathrú Rua and An Spidéal.
The motion adopted by the Council should mean that language conditions will not be imposed in areas, where less than 20% of the population use Irish on a daily basis. However it appears the language condition will still be imposed in the Cois Fharraige Gaeltacht area, from Na Forbacha to An Cheathrú Rua as well as Moycullen. This is a major change from the original motion put forward by the the councillors, which would have excluded Irish speaking strongholds such as An Cheathrú Rua and Ros a Mhíl from the Gaeltacht areas to be protected by imposition of a language.
Ag cruinniú a tionóladh faoi choimirce Údarás na Gaeltachta ar an Déardaoin, 20 Iúil, ag a raibh ionadaithe óna grúpaí pobail sa Ghaeltacht chomh maith le cúigear dena Comhairleoirí Chontae ó cheantar Chonamara, d'iarr an Príomhfheidhmeannach Pádraig Ó hAoláin nach ndéanfaí "aon athrú nó leasú ar pholasaí reatha Chomhairle Chontae na Gaillimhe" mar go bhfuil obair ar bun ag an gComhairle Chontae le Plean Ceantair a ullmhú do Ghaeltacht na Gaillimhe agus go bhféadfaí é seo a usáid le plean Ghaeltachta a ullmhú "ina mbeadh cóimheá idir na gnéithe forbartha eacnamaíochta, buanaithe pobail agus cosanta teanga".
Ag an gcruinniú tuairiscíodh nár labhair duine ar bith dena ionadaithe pobail i bhfábhar an moladh a bhí déanta ag Comhairleoirí Chonamara. Tar éis an chruinniú dúirt Trevor Ó Clochartaigh, Cathaoirleach Choiste Pobail An Cheathriú Rua ar Lá (25 Iúil) nár chóir go mbeadh na Comhairleoirí "ag iairaidh dallamullóg a chur ar an bpobal" faoin gceist mar gur "lucht rachmais agus na forbróirí" até imníoch faoina coinníollacha Gaeilge agus nach bhfuil aon fhianaise curtha ar fáil go bhfuil an coinníoll teanga ag cur bac ar dhaoine tithe a cheannach ar eastáit ina gceantair dhúchais.
In the meantime the approach by planning officiais to imposing a generalised language condition to planning permissions for schemes of houses in the Gaeltacbt, has been severely criticised and described as "deficient" by a Bord Pleanála Inspector. In his report to the Bord, recommending refusal for a development of 10 houses in Na Forbacba, the Bord Pleanála Inspector, Kevin Moore, commented as follows with regard to the language condition imposed by Galway County Council Cás 216054 - 12/6/2006: "The Board in recent times consistently specifies the main parameters in the Irisb language condition attacbed witb a grant of planning permission. The planning autbority, notwithstanding this, appears to consistently avoid attacbing a meaningful condition, without the main parameters clearly spelt out for the applicant and interested third parties to understand. I consider such an approach to be completely deficient. The generalised condition that is currentiy being applied by the planning authority can readily be exploited in such a way that tbe regulation of occupancy by Irisb speakers becomes valueless, leading to an obvious conflict witb the Development Plan pouicy that requires imposing conditions in granting permissions whicb ensures the stabilisation and tbe promotion of Irish as a community language. Having regard to the number of decisions issued by the Board in the Galway Gaeltacbt area with a language condition applying, I do not understand nor accept why the planning authority is avoiding its responsibility to set out the main parameters of a language condition. In my view, this can only be construed as unhelpful when there is a necessary aim to promote and conserve the Irish speaking community, particulariy in such a vulnerabie community as Na Forbacha, a community whose status as a Gaeltacbt is clearly under threat due primarily from housing development pressure ansing from the village's accessibiiity and proximity to Galway City."
An Bord Pleanála accepted the recommendation of the Inspector and refused permission for the development, with the generalized language condition attached. However the language condition attached to a recent permission for a scheme of 4 houses in An Cnoc Theas, Indreabhán, has the same generalized language condition attached, which has been the subject of criticism by An Bord Pleanála Inspectors.
Glór Chonamara; 28/7/2006