That now was Seachtain na Gaeilge - the Irish language week - with its link to St Patricks Day. Even the weather forecast on RTE, the rain and all, was being spouted out in Irish. Its like the fancy set of dishes on the dresser that were brought down about once a year when important visitors came to the house - like St Patrick. But that day has its place too and there is no use in being critical of "Seachtain na Gaeilge". What good it does in relation to the Irish languageŠback at the ranchŠin the Gaeltacht areas of this county is hard to know.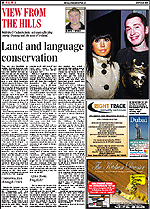 Indeed, it's hard to know if much of what goes on about the Irish language in Official "Gaeleach" Ireland is for real at all Šor is it some sort of window dressing.
Poor Pádraig McCormack, the Fine Gael TD for Galway West got caught with his Irish trousers down and without his window dressing lately. Pádraig sent out a brochure with a lot of details about certain things that people were entitled to - social services and the likes. But he was soon reminded that he should have sent an Irish language version of this brochure to the Gaeltacht areas. To be fair, Pádraig said it was an oversight and would be corrected. But hold it Pádraig.
The late Pól Ó Foighil - a staunch Gaeltacht man - one time suggested that he wanted to send out a leaflet in both Irish and English to the people of the Gaeltacht. Pól, a practical man, said the reason was that he had found that the people of the Gaeltacht did not read very much in Irish. So if Pádraig McCormack looks at the bigger picture, he will see that there are three or four sides to the storyŠand that there might have been no need for the window dressing at all. But, wait - Pádraig is a fast learner when it comes to the Irish language.
Conservation through Irish
Pádraig McCormack has now made the case that the section of the Department of the Environment that looks after land conservation has acted unconstitutionally in sending out notices in English in the Gaeltacht. These letters gave notice that certain extra areas were to be made SACs. Deputy McCormack says that the process could well be null and void and could be in contravention of the Official Languages Act!
Pádraig is suggesting that the process should begin again because of the lack of Irish - even though I have not heard of any such call from the Gaeltacht! Remember this Official Languages Act is Minister Éamon Ó Cuív's law. It was he who guided it to through the Dáil and Seanad Šand this was when the need to publish and print all State matters in Irish and English came about.
That was about the time too that Minister Ó Cuív launched Galway County Council's Irish language plan and declared that Galway was a bi-lingual county. He then went on to prove it was a bilingual county by doing most of his talking in English to the councillors in County Hall! A brand new and expensive translation system, with immediate translation facilities into your earsŠhad been launched that same day.
But Minister O' Cuív had an answer in Irish when he was asked about all of this. He said it was better for the people of the Gaeltacht that he would speak in English on the occasion. Those councillors in East Galway mightn't get the message! He said it was unlikely that the earphones would be used as it took time to get people to change their habits.
Well,the earphones might be getting rusty by now as they are rarely used in Galway County Council. And Connemara councillors are dodgy about speaking any great amount of Irish anyhow. Other councillors might not use the earphones - and the message from the Connemara councillors might not get across clearly to some other councillors and officials who have dodgy Irish, if any. So what do you do?
Give them English!
You do what was done at this year's launch of employment statistics by Údarás na Gaeltachta for the end of 2006 - you speak English for a considerable amount of the time. At that Údarás launch by CEO, Pádraig Ó hAoláin, about 95 per cent of the people in the room were fluent Irish speakers. However, about half of the presentation was in English with one reporter who asked a question in Irish getting most of the answer in English! The reason was obviously to ensure that the English language journalists got the message clearly. Well, I suppose you cannot argue with that - sure important people would read them English papers.
And isn't it's a bilingual County anyway? But that was forgotten by Galway County Council when they published the Barna village plan in English only. It had to be withdrawn and translated at a cost of about ¤30,000. This translation will, no doubt, be a good job. How many people in Barna will actually use the Irish version is open to question. But that does not negate the need to comply with the language act. So you can look for contradictions and they are there in official "Gaeleach" Ireland.
But what about "Green Gaeleach Ireland"? Wasn't I at the "Gaillimh le Gaeilge" business awards lately and who was there but the Green Giant from City Hall! Yes, the Galway Gaeleach Mayor, Niall Ó Brolcháin. Reading from his script he had three sentences in Irish and the rest in the fluent English of the Queen. You wouldn't know in the hell when you'd think about it rightly. But back at the ranch in the Gaeltacht, a real practical step would be the development of Irish language creches on a widespread basis. This would have the effect of getting toddlers into an Irish language environment at a very young age. Údarás na Gaeltachta promised such a scheme some years ago but the "tóin" seemed to fall out of it. Maybe it was the want of money?
Another good idea would be to bring back St Patrick, get him to kick the "tóin" of them bearded Irish language fundamentalists and rout them out of this countyŠlike he routed other intruders out in the past. They could then be sent to live in some Special Area of Conservation that would be properly designated in Irish according to the wishes of Pádraig McCormack.
And if you were ever caught in that SAC with your trousers down, or with your beard gone too academic, you could tell the guards that you couldn't understand them because you had no English! Meanwhile, back at the ranch goes on.
Máirtín Ó Catháin's View from the hills - Galway Advertiser 22/3/2007