Contact:
Máirtín Tom Sheáinín Mac Donnchadha
Sruthán Buí
Leitir Caladh
Leitir Móir
Co. na Gaillimhe.
Colm de Bhailís


1796 - 1906
---
Siamsa Choilm de Bhailís
19th - 21st July 2013
Ros Muc, Leitir Móir, Eanach Mheáin, Conamara

Commemoration of the poet and craftsman Colm de Bhailís who died over 100 years ago.

A weekend of music and song in honour of the local poet Colm de Bhailís. Competition 'Banríon na Sairdín' (Queen of Sardiania) for Conamara and Árainn beauties, question times, sean-nós singing for children, and a visit to the poet's grave in Cill Chuimín, Uachtar Ard.

Gaeilge
---
---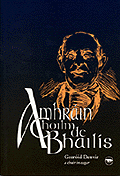 (CD or Tape)
---
Ceantair na nOileán
(The Island District, Colm's birthplace)