A new policy aimed at making it easier for people who will make positive contributions to Gaeltacht areas of Connemara to get planning permission there, is now being proposed in a bid to strengthen the linguistic and cultural heritage of the area.
However, in order to counterbalance this more 'liberalised' planning approach, a 15-year enurement clause - as opposed to the seven years imposed in other parts of the county - would be attached to single houses built under this policy, restricting the sale of these rural homes to certain conditions during this timeframe.
The move has already caused tensions amongst Connemara Councillors who have taken different stands, which quickly became evident at this week's meeting ofGalway County Council.
Independent Councillor Seosamh Ó Cuaig voted for the increased I 5-years "no sale" clause as did Fianna Fáil Councillor Seán Ó Tuairisg. PD Councillor Thomas Welby also voted for the increase as did Fine Gael's Sean Kyne. However, Séamus Walsh and Josie Conneely - both Fianna Fáil- voted against the longer clause.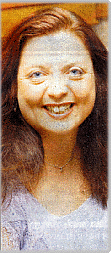 Cllr. Connie Ní Fhatharta.....did not support 15 year enurement.

Councillor Connie Ní Fhlatharta made a statement saying she had nothing to do with the efforts to increase the "no sale" clause to 15 years. She abstained when the vote was called.

During the meeting this week, councillors held a lengthy debate - mostly in Irish - on the new draft Gaeltacht Local Area Plan.

The first of its kind in the country, the plan aims at ensuring the Gaeltacht -whose language and culture are under threat due to the transformations that any active community undergoes changes in a positive way, without Iosing the unique elements that define it, according to Director of Planning, Paul Ridge.

"The policies [within the plan] are put together so a positive image is created for the language and for the Gaeltacht, and also so an opportunity is given to the Gaeltacht to develop as a special region."

One policy included in the plan - the Neartú Gaeltachta, or 'Strengthening of the Gaeltacht' policy - is aimed at making it easier for people who can make positive contributions to the Gaeltacht to get planning permission in the area. According to the proposed policy, the linguistie and cultural heritage of the Gaeltacht would be promoted by being "favourably disposed" toward people looking for planning permission who can prove they fali into one of three categories.

These include local people, and people who are either employed, self-employed or creating employment in the Gaeltacht (irrespective of whether or not they speak Irisb); returning emigrants from the area and their immediate family; and Irish speakers who can demonstrate their ability to be a "long term asset to the traditional, cultural, arts, heritage and language networks of vibrant Gaeltacht communities."

The developments this policy will be applied to include one-off houses in the Gaeltacht areas west of the Corrib; and residential developments of two or more houses that are also west of the Con-ib, and outside the Galway Transport and Planning Study (GTPS).

But in order to counterbalance th's more 'liberal' approach in granting planning permission, a 15-year enurement clause has been recommended. This means that, within this 15-year time frame, the house can only be sold to someone who also falls under the categories specified under Neartú Gaeltachta. After that time, however, it can be sold onto anyone.

"We want to ensure that houses built under this new, more liberal regime wiIl be used for the purpose for which they were granted - mainly to strengthen the Gaeltacht," Mr. Ridge explained to the Connacht Tribune. "We feel that the 15 year enurement will achieve this."

However, some Connemara area councillors raised concerns about the length of this clause.

Councillor Connie Ní Fhatharta (FF) said that, while she believes language enurement clauses should be put on homes within housing estates - as these are usually bought by people from outside the Gaeltacht - she could not support putting 15 year enurement clauses on single houses, as these would usually be built by locals.

Councillor Josie Coneely (FF) said that there was no way he could agree with a 15 year enurement, and put a motion forward to change it to seven years, which is currently the length of time specified under the County Development Plan for enurement clauses.

This was seconded by Cllr. Séamus Walsh (FF), who questioned how the council would 'sell" 15 year enurement clauses to the Gaeltacht community.

However, this proposai was defeated by a vote of seven to four, with one abstention.

Councillor Seosamh Ó Cuaig (Ind) said he was in favour of putting out the proposai as is, and getting the public's feedback on it.

Councillor Tom Welby (PD) echoed a similar sentiment, pointing out that they were only dealing with a draft plan and changes could be made to it.

"It wiIl open a debate, and at least if we do get submissions, we'lI have an opportunity to discuss them," he said.

The draft Gaeltacht Local Area Plan wilI go back out on public display in three weeks' time for a month, during which time the public wiIl have a chance to make submissions on the document.

Carmello Maffeo: Cúradh Chonnachta 30/11/2007