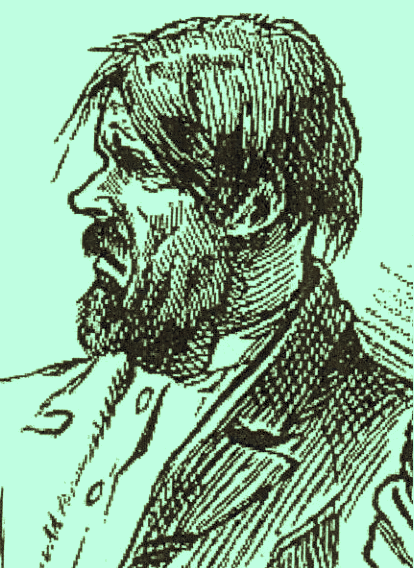 Myles Joyce
(drawing from book, "Maamtrasna, the murders and the mystery.")
Clár
Nuachtáin/Newspapers
Tim Healy
Comóradh 2012
(Nóta Buíochas, Pictiúirí & tuairiscí/Acknowledements, Reports & Pictures)
James Joyce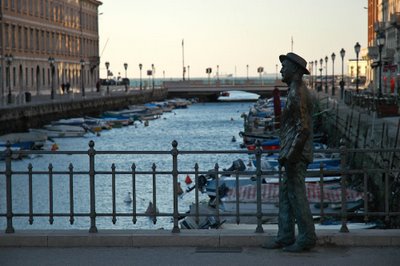 Trieste: Dealbh James Joyce Statue
| | |
| --- | --- |
| Scríobh James Joyce píosa faoi i 1907 i "Il Piccolo della Sera." nuachtán i dTrieste na hIodáile. | The writer James Joyce wrote a piece in "Il Piccolo della Sera," a newspaper in Trieste in Italy in 1907. |
Ireland at the Bar
Several years ago a sensational trial was held in Ireland. In a lonely place in a western province, called Maamtrasna, a murder was committed. Four or five townsmen, all belonging to the ancient tribe of the Joyces, were arrested. The oldest of them, the seventy year old Myles Joyce, was the prime suspect. Public opinion at the time thought him innocent and today considers him a martyr.
Neither the old man nor the others accused knew English. The court had to resort to the services of an interpreter. The questioning, conducted through the interpreter, was at times comic and at times tragic. On one side was the excessively ceremonious interpreter, on the other the patriarch of a miserable tribe unused to civilized customs, who seemed stupefied by all the judicial ceremony. The magistrate said:
'Ask the accused if he saw the lady that night.'
The question was referred to him in Irish, and the old man broke out into an involved explanation, gesticulating, appealing to the others accused and to heaven. Then he quieted down, worn out by his effort, and the interpreter turned to the magistrate and said:
'He says no, "your worship".'
'Ask him if he was in that neighbourhood at that hour.' The old man again began to talk, to protest, to shout, almost beside himself with the anguish of being unable to understand or to make himself understood, weeping in anger and terror. And the interpreter, again, dryly:
'He says no, "your worship".'
When the questioning was over, the guilt of the poor old man was declared proved, and he was remanded to a superior court which condemned him to the noose.
On the day the sentence was executed, the square in front of the prison was jammed full of kneeling people shouting prayers in Irish for the repose of Myles Joyce's soul. The story was told that the executioner, unable to make the victim understand him, kicked at the miserable man's head in anger to shove it into the noose…
("Il Piccolo della Sera" Trieste, An Iodáil/Italy. 16.09.1907)