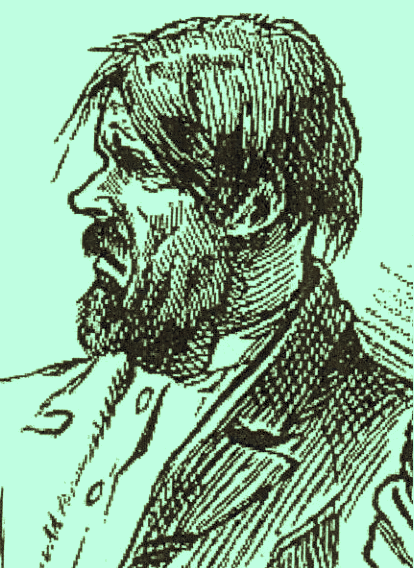 Myles Joyce
(drawing from book, "Maamtrasna, the murders and the mystery.")
Clár
Nuachtáin/Newspapers
James Joyce
Comóradh 2012
(Nóta Buíochas, Pictiúirí & tuairiscí/Acknowledements, Reports & Pictures)
Timothy Michael Healy, KC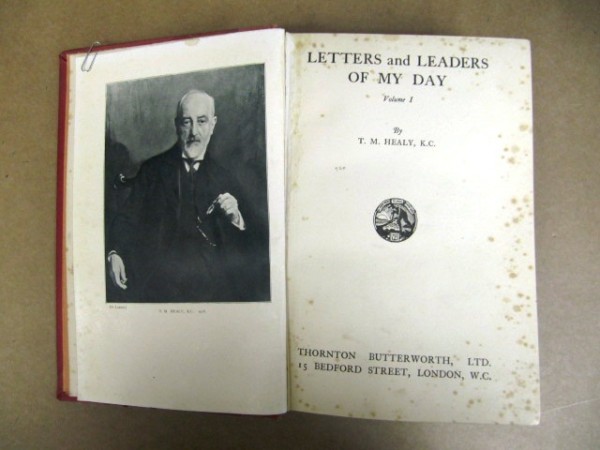 Poiliteoir conspóideach a bhí i Timothy Michael Healy a bhí ina Fheisire i Westminster i bpáirtí Pharnell ach a thit amach leis faoi chás Kitty O'Shea. Níos deanaí bé an chéad Seanascal ar Shaorstát Éireann é (1922-1928). Nathaí mór a bhí ann mar dhuine, cé go bhféadfadh sé a bheith searbh go leor.
Seo píosa óna leabhair, "Letters and Leaders of my Day."
Cailleadh Tim Healy sa bhliain 1931.
Tim Healy, was first Governer General of the Irish Free State (6 December 1922 – 31 January 1928). Prior to that he was a Member of the Westminister Parliament during the turbulant years of Parnell and the O'Shea divorce controversy. He was famous for his invective wit which landed him controversy on more than one occasion.
This extract is from his two volume book entitled, "Letters and Leaders of my Day."
Tim Healy died in 1931.
Richmond Jail
26 May, 1883.
"[A prison warder's] stories of the Galway prisoners there, convicted by Dublin special juries under the Crimes Act, and sentenced to death, were heartrending. He said none of them could speak English, and that they bewailed their fate in Gaelic, holding up their hands to try to make him understand. They numbered their children on their fingers, and by signs tried to show him their ages and heights. Crimes Act convictions were so common then that I did not attach special significance to his accounts. One conviction, however, was soon to have a sequel which bred rancour in British parties, and led to a political change.
Foster's narratives related to men accused of the Maamtrasna murders of 1882...
..One of them, Myles Joyce, on the scaffold, vehemently protested in Gaelic his innocence. A few weeks later an English soldier stationed in Galway Jail vowed that on his rounds as sentry he saw Joyce's ghost at night.
...A startling confession was to come. A mission (or revival) took place in the parish of the informer Casey in 1884. The Archbishop of Tuam, Dr. McEvilly, unaware that anything unusual was to happen, came to give greater solemnity to the devotions. Casey entered the church unexpectedly, and after parley with the curate, publicly confessed his perjury against Myles Joyce. With a lighted candle in his hand before the astonished congregation, he owned that to save his neck he had sworn falsely. Furthermore, he declared that the real murderer was "Big Pat Casey of Bunnacric."
("Letters and leaders of my day" …T. M. Healy. New York : Frederick A. Stokes Company, 1929)